Digital Transformation – The Future of Broadcast
Current trends hugely influence the media and entertainment industry. This is reflected in the media consumption behavior of your customers. The majority of consumers have become much more refined and discriminating. The speed with which the requirements and demands of your target groups change has rapidly increased. Consumers help themselves to a varied palette of formats with a broad range of content, available any time over multiple platforms. At the same time, your customers are just one click away from your competition. Your competitor's customers are, however, just as far from yours. Therefore, opportunities and risks lie very close to one another. Traditional revenue models suffer from slowing growth while new sales opportunities are emerging.
The Digital Revolution will not spare the TV, whether as appliance, business model, distribution structures, or viewing habits. Broadcasters should see the opportunity in the new distribution structures and interactivity to reinvent themselves. Media companies can develop new business models and TV can also grow with this challenge. A good digital infrastructure makes so much possible – broadcasters can stream shows on the internet, and high quality video material can be produced with 4K, 8K, and HDR. Artificial Intelligence algorithms can recommend programs to pique viewers' interest and keep them on the platform.
Targeting resources
You would be surprised how many companies still use several different technologies for their core business processes. Every single subtask has to be manually organized and performed. And if these sub-processes are not joined-up, data silos emerge almost instantaneously and business processes become increasingly inefficient and opaque. In short, valuable resources are wasted.
The winners of the digital transformation will be those who are in the position to handle multiple channels with relevant content, just like the enterprises that can react flexibly to trends. The speed and extent of disruption is increasing. More decisions have to be made and then implemented with purpose and speed.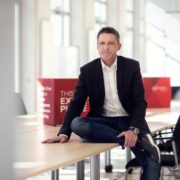 Reduce Complexity, Optimize Processes, Increase Efficiency. That's the Essence of Digital Transformation.
Digital transformation can only be successful if the right information arrives at the right time in the right form. Better yet if the information is already bundled together and can be distributed or accessed centrally at any time! However, this is not trivial. Corporations are growing, projects are increasing in scope and suddenly a legion of resources is involved. Scheduling these manually and managing the project suddenly becomes expensive and abstruse.
Dynamic processes
In order to live long and prosper in the undiscovered country of Digitization, a media company requires the necessary digital infrastructure. For streaming services, and other providers of mobile content, Ceiton Technologies is a strong partner as we are prepared for digital production and distribution. Planning and monitoring of production processes takes place in real time on our production planning software CEITON and all processes can be called from anywhere.
CEITON is a dynamic platform which transforms the processes in media companies from planning to billing into an automated workflow. Our scheduling module organizes the planning of employees, equipment and systems. Dynamic interfaces connect various software tools. The entire system operates on a high level of cyber security and is secured against attacks, whether hosted locally or in the cloud.
CEITON connects virtual teams worldwide, automates processes and enables the rostering and scheduling of employees, resource, equipments and rooms using easy to use calendar and Gantt chart views, as well as time-accounting and cost calculation for tasks and materials. Numerous external software tools can be integrated into the system, so the overarching process from customer order through content creation to delivery, payroll and accounting can all be managed within the CEITON system.
We at Ceiton Technologies have been automating production processes for over 15 years with our scheduling software CEITON. Boutique operations with ten employees can benefit e.g. from our semi-custom workflows, which can be implemented quickly and inexpensively. However, large media houses with several thousand employees are also represented amongst our customers. For them, process consulting and implementation are much more complex. In addition, support and maintenance after go-live is much more intense. Only if a company's processes are maintained regularly, is it able to remain effective and efficient and take advantage of the digital transformation. We and our partners help with this.
Act now and prepare for an ever more complex ecosystem with innumerable market participants and fast changing trends. This is just as true for established broadcasters, public and private, as it is for the multitude of small and medium-sized broadcast and media companies.
About the author Bernd Krechel
The graduate engineer in messaging technology, specialising in communication, has been a Managing Director of Ceiton Technologies since 2013.