expertplace solutions supports the "Deutschlandstipendium" scholarship
Leipzig, Germany, 01 November 2018 – On the evening of November 1st, 51 private funding agencies, including two representatives from expertplace solutions GmbH, were invited to the Geutebrück Building of HTWK Leipzig. They participated in the ceremonial handover of the scholarship certificates to 73 students who had excelled through extraordinary achievements and social commitment from 230 applications. Half of the 300 euros in the scholarship paid each month are provided by non-state sponsors and half by the federal government. It runs until the end of the standard period of study and is also awarded to foreign students.
The Deutschlandstipendium of the Federal Ministry of Education and Research has been supported by expertplace solutions GmbH since the winter semester of 2018. On the 1st of November, the official celebrations with founders and scholarship holders took place in the premises of the HTWK Leipzig University.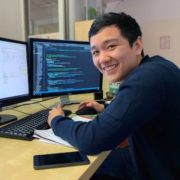 "The most important first: A big thank you from me to expertplace solutions GmbH for their support in the coming two semesters! I have to admit that I did not expect a commitment anymore, so my surprise and joy was even greater. My studies are going great so far, better than at the beginning though – because I have "accidentally" occupied two master modules and have already achieved very good results."
After the ceremony with speeches and music, students and sponsors had the opportunity to get to know each other in a relaxed atmosphere and, if necessary, to forge joint future plans.
The scholarship holder from expertplace solutions GmbH uses the international orientation of HTWK for a study-related semester abroad in Scotland. For the following practical semester in Leipzig, expertplace solutions GmbH invites him to practical work as part of an internship or his thesis.
"Studying Media Technology is demanding and involves a steep learning curve, so young talents should not have to work on the side. The Deutschlandstipendium offers not only financial support, but also valuable contacts for internships and getting started. We invest early in the training of developers to advance the digitization in Germany and to attract coveted professionals for our company."