Insight into the daily work of a software company and tips for applicants
Kitchen Talk with expertplace solutions´ Senior QA Manager Kolm. Apply as an IT Developer at expertplace solutions and you will get to know him personally.
Kolm is Senior QA Manager at expertplace solutions. He started at the company over ten years ago, when expertplace solutions GmbH was still called Ceiton Technologies. So he knows the day-to-day work and the development of this software company very well.
At this point we'd like to give a brief insight about his experience with us and what he recommends to new IT and web developers. I meet him in the kitchen with the obligatory coffee.
Hello Kolm, what are you working on today?
In general, I´m responsible for software testing and developing test plans in accordance with ISO 9001. I also supervise the documentation. We participate in tenders from time to time and today I'm helping to prepare offer documentation.
You are one of the longest-standing employees. How has expertplace solutions changed over time?
The company has scaled up over the years. When I started, we were about 10 colleagues in two small rooms and we could shout into the next room! Since 2013 we are part of the larger expertplace networks group AG, and as we have grown and hired new people, communication has become more organized and professional.
You studied Mathematics. Is this knowledge useful for your daily work?
Surprisingly yes, very much. In mathematics we look for counter examples all the time. If a result is true 99 times out of 100, the counter example is the one time it's not true. Looking for bugs is similar, as I'm looking for the exceptions.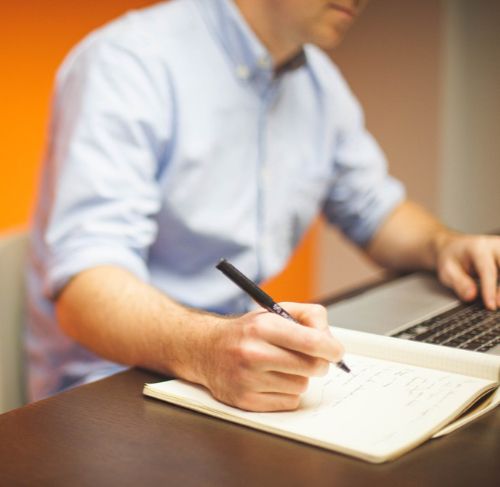 At your job you have shown an affinity to language and wording. Can you bring in all your portfolio abilities at expertplace?
Yes, for example I can be a bit more creative when I write reports, offers and documentation. Also working with screenshots brings a nice balance to my testing tasks, where instead of being creative, I'm trying to break things! (laughs)
When you work here as an IT developer, you are mostly in your flow and focused on developing, but you can also bring in your skills and creativity in different areas and think outside the box.
What do you recommend software developers who apply at our IT company?
Be curious and be eager to learn something new. You should be interested in new technologies like process automation in developing software. For working on the CEITON system, it helps to be proactive and always look for where you can add value.
Software production, like the construction industry, can have a tough culture, so you should be prepared to take criticism sometimes, it´s not personal.

You grew up in Ireland. How was your change to Germany?
When I came to Leipzig there was high unemployment, I guess maybe 20%. It was difficult to find a job here. I had already learned a bit of German before, but only when I was able to manage an entire job interview in German, did I start to get offers.
Is there a tip you would like to give to IT developers from abroad who apply to work in Germany?
(laughing) Cancel your contracts like TV, Internet, e.g. in time otherwise they will extend automatically. That is typical here. And watch the traffic from the right side! Also, they drive on the right here! And beware, the food situation could be better, particularly for vegetarians. But there are more good ethnic and burger places now.
To speak more seriously, I noticed a change in corporate culture in the last 10-15 years. Companies are more open to work and collaborate with people from other countries. The state-owned website make-it-in-germany.com gives you a lot of information about the first steps of your application and daily life in Germany.
Thank you for the Interview!
Impressions of Leipzig in the federal state of Saxony