CEITON Mobile Workbench – Smart Time Tracking
Thanks to continuous development, we have shaped the mobile time tracking into a portable workplace – the CEITON Mobile Workbench. Starting with small but effective improvements in task management and working up to more significant calendar enhancements, permanent and freelance employees are more involved in planning and tracking than ever before. Now tasks and assignment plans can be created and coordinated more efficiently.
CEITON Mobile Workbench – Functional Expansion of the Calendar
Everybody knows that as soon as the calendar contains enough entries, tasks and shifts are searched for more than they are found. In order to be able to quickly distinguish between the entries, we set different colors for the various statuses. To ensure intuitive handling, these correspond to the color scheme in the main CEITON production planning system. Therefore, the color scheme can individually modified to the same extent.
In addition, we have added an icon to the tasks which shows additional information on the submission status. The employee can see more clearly whether she has submitted her times for each entry and whether her times have been approved.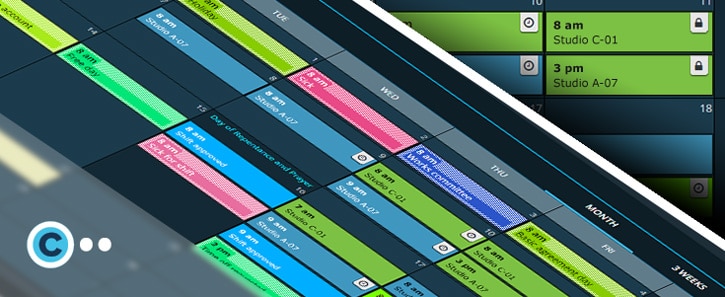 In general, the daily, weekly and monthly views were optimized. We have also improved navigation and shortened routes through the system. Now all entries can be reached and edited through the calendar. As a result, the calendar is growing in importance and is becoming an ever more central tool of our mobile workbench.
Cool additions that improve our task management long-term
With regard to task management, your employees can now enter accumulated extra expenses so they can be checked.
In addition, extra resources such as equipment can be associated with a task, which are then automatically applied to each additional day, so your users don't have to repeatedly enter the same data. Because it can happen that daily entries differ only a little from each other, we allow users to easily copy the last day's entry. Individual fields can then be changed quickly and easily e.g. the entry of a different break time.
Exchange Connectivity
As Bernd Krechel has already outlined in this article on Digital Transformation, many companies use a variety of different systems for order processing. This can quickly inhibit business processes. In order to facilitate the switch to our system and thus to a central solution, we have implemented a connection to Exchange. All entries from the CEITON scheduling system can be exported, both to the calendar of our CEITON Mobile Workbench and to Outlook.
This is simply to reassure users, so they can comfortably accept our calendar. However, you'll very quickly see that another tool such as Outlook is no longer necessary.